This is it, folks. This is the perfect, unexpected, amazing vegetable soup, adapted from Michael Solomonov's beast of a cookbook Zahav. This recipe is the perfect example of his brilliant and unusual use of commonplace spices and other ingredients. Here, he uses squash peels and seeds, usually thrown in the trash, as the base for a beautifully-spiced and seasoned squash-tomato broth, given depth by the addition of a charred onion.
A cinnamon stick and whole cloves add warmth and bring out the sweetness of the squash flavors, and the bitterness of kale brings balance. Toasted fideos and roasted pieces of squash add body and a toasty flavor to the soup, with pearl onions adding one more bite of sweetness.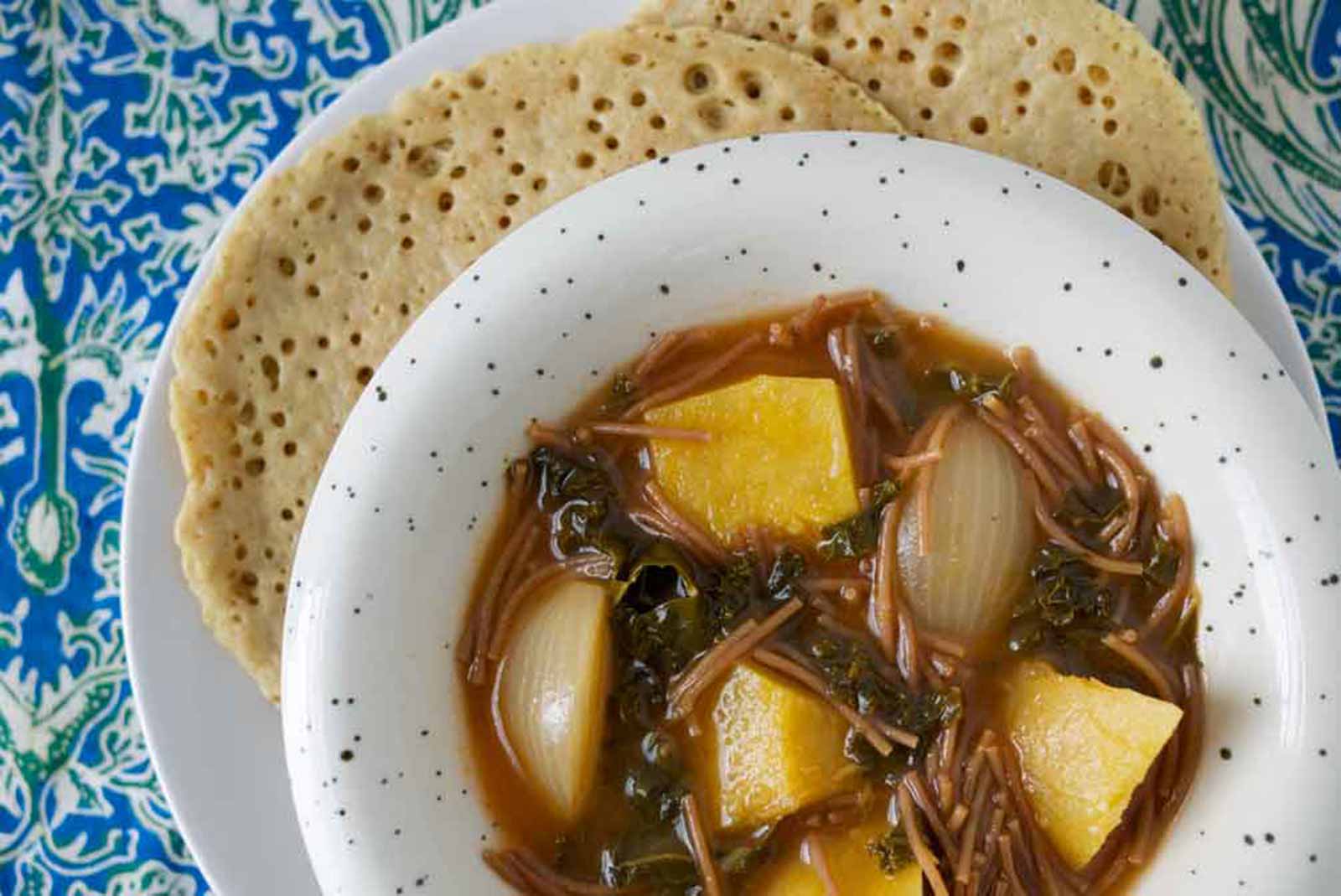 This soup takes some time to make -- peeling the squash is a bit of a pain, as it always is, and the broth takes an hour to simmer and bring out all the flavors of the vegetables and spices. But other than the time it takes, this is a soup with a fairly accessible and inexpensive list of ingredients that will yield spectacular results. Give it a try, and if you go right out and buy a copy of Zahav after taking your first bite, well, I don't blame you at all.
The bread that you see in the picture above is called lachuch, a beautifully spongy pancake bread typically served alongside soup in Yemen. A healthy dose of ground fenugreek speeds its fermentation and adds a tangy flavor, though the bread can lean either savory or sweet, depending on its toppings. I've included a recipe for it along with the soup, should you want to go the extra mile. And if you end up with leftovers, a friend of mine whose family is Yemeni swears that a piece of lachuch spread with labneh and honey makes for the best breakfast ever.