Have you ever heard of sumac? If you live in the American South, you may think of it as a weed. But hopefully after making this recipe, you will now think of it as a delicious weed.
Sumac is a plant that produces a reddish fruit called a "drupe." A drupe is a category of fruit that also includes stone fruit such as peaches and plums. The drupe of certain varieties of sumac plant are dried and ground into a powder, which is used throughout the Middle East to give food an awesomely sour, bright, lemony flavor.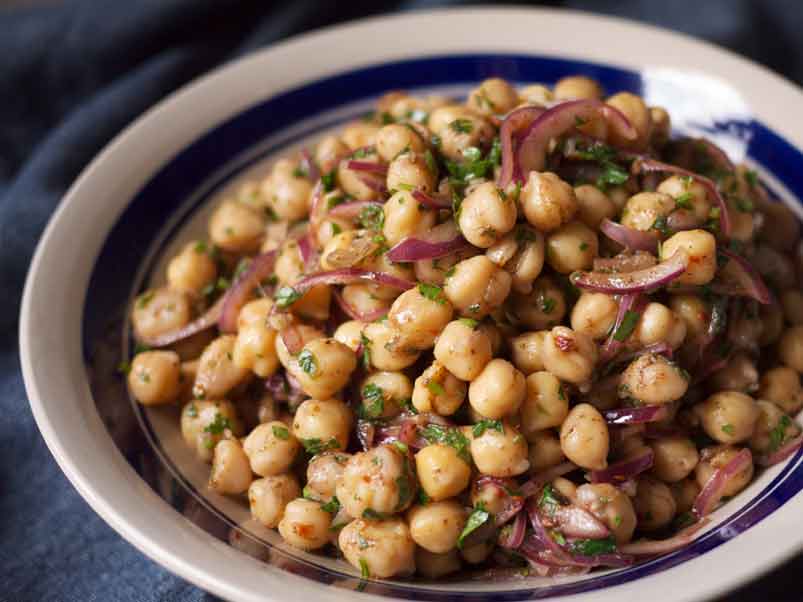 But it's not quite lemon - it really is in a league of its own. It's an incredibly versatile spice that can be sprinkled on top of hummus, added to a salad dressing for an extra punch of sourness, or used in meat marinades.
Here, it's used to marinate red onions for a wonderful chickpea salad that gets better in the fridge overnight! What could be better?
And there's another fun new ingredient in this recipe to try, if you haven't already. Pomegranate molasses is not technically molasses, but is pomegranate juice reduced to a thick syrup, the consistency of molasses. It's sweet, but has that back of the jaw bite that a sip of good pomegranate juice will give you. It works beautifully with the sourness of sumac, and is a great way to add a touch of sweetness to salad dressings, marinades, or even a summer cocktail.
Also below is a method of cooking chickpeas that I learned from a Nancy Silverton recipe a while ago. It takes a long time, perhaps longer than you are willing to spend on the humble chickpea. But trust me, with this way of cooking them, chickpeas become something more a meaty, creamy, beautifully-flavored bean that can be the base for soups, salads, or anything you can imagine. Give it a shot. It might change the way you think about chickpeas.