by Lydia Whitlock — Oct 14th, 2016
Both of these recipes are kind of magical -- they take super simple ingredients like water, flour, butter, salt, and Vanns Smoked Spanish Paprika and turn them into beautiful, impressive golden brown focaccia and a deeply orange-red, perfectly flavored smoked paprika butter to be spread on top. It makes a great appetizer for any occasion, but be careful that your guests don't fill themselves up on it! It's a little bit addictive.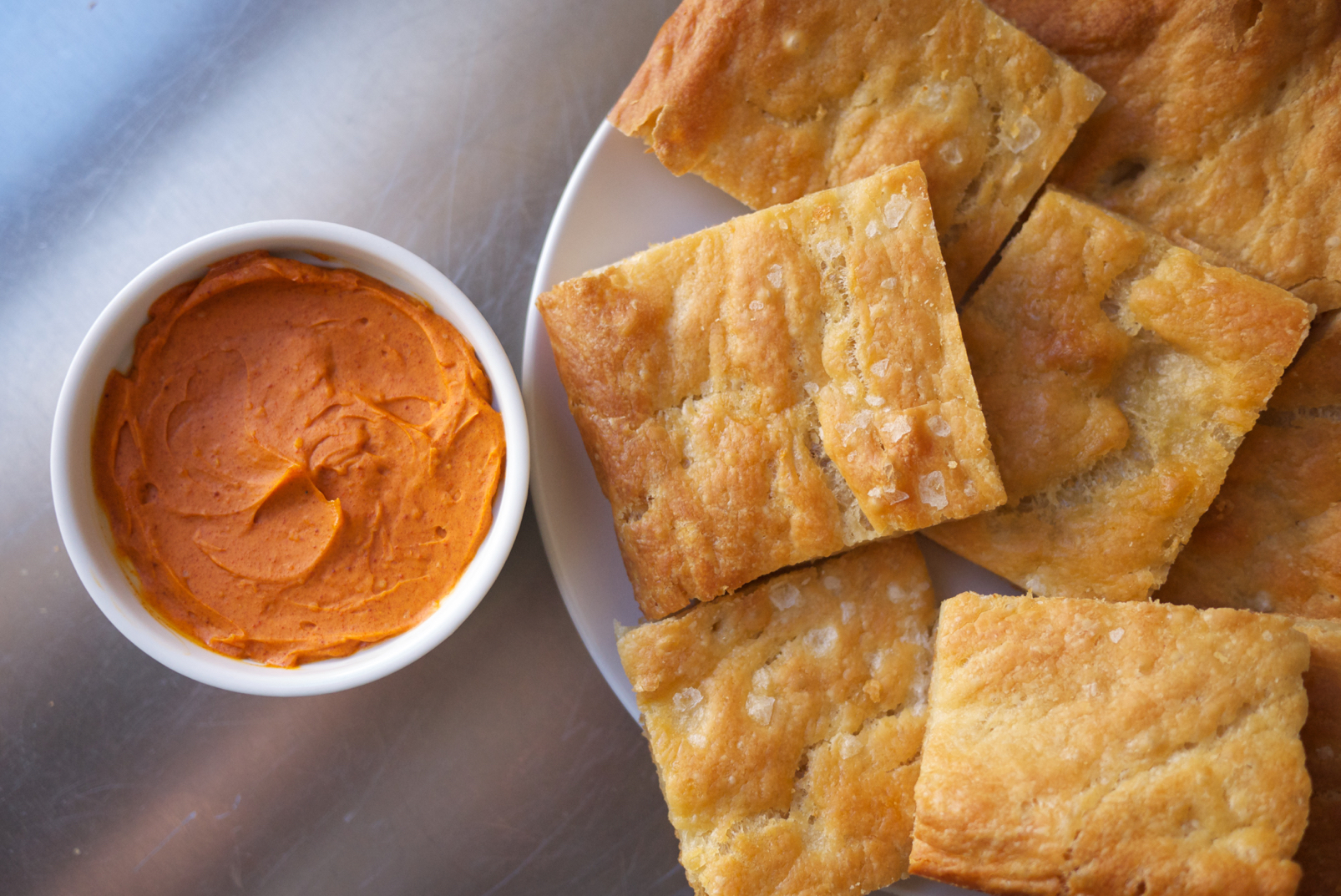 The focaccia and butter can be used separately, of course. The focaccia, carefully halved horizontally, makes for a luxurious sandwich bread, while the smoked paprika butter is great for adding a smoky flavor to savory dishes -- toss a knob in at the end of pan-frying a piece of fish, or frying eggs, or even use it to finish off a pasta dish! The possibilities are endless. (I wouldn't recommend using it as a cooking fat, however; the spices in the butter tend to burn if heated for too long at cooking temperatures.)
INGREDIENTS
Focaccia:
Smoked Paprika Butter:
PREPARATION
Make the focaccia: Whisk together the flour, salt, and yeast in a large bowl. Add the warm water and stir with a silicone spatula or wooden spoon until all the flour is incorporated -- it will form a very sticky, wet dough. This is good! This is what makes the end result so tender and moist.
Pour ¼ cup extra-virgin olive oil into a large bowl, one that will give the dough room to rise significantly. Cover tightly with plastic wrap and place in the refrigerator to rise for at least 8 hours or for up to 2 days. The longer it rises, the better the flavor, in my opinion, but if you're short on time, 8 hours still works!
When you're ready to bake, preheat the oven to 450°F and oil an 18" x 13" baking sheet. Transfer the focaccia dough to the pan and use your hands to spread it out over the pan as much as possible -- it will try to spring back from the corners, but some gentle, patient pushing will make it stay.
Place the dough in a warm place to rise again, until it about doubles in bulk. This can take 20 minutes in the summer and an hour in the winter, so pay attention to its original size. When the dough is ready for baking, it should be room temperature, fully spread out on the sheet, and looking nice and fluffy.
Pat down the dough to an even 1-inch thickness and then poke your fingertips into it at 1-inch intervals to make a series of dimples over the whole surface of the dough. Drizzle the entire surface with some extra-virgin olive oil -- this helps it get a beautiful golden-brown color -- and sprinkle generously with some English Flake Sea Salt.
Bake for 20-30 minutes, rotating the pan halfway through, until the top is a beautiful golden brown. Transfer to a wire rack to cool and then remove from the pan.
This bread is best eaten the same day or, at the very latest, the next day. "That's a lot of focaccia to eat in one day!" you might be thinking. Well, even though it's delicious, I agree. This bread also freezes quite well -- cut it into single-serving rectangles and freeze it in a freezer bag. It will defrost and crisp up nicely in a 350°F oven later on. If you're planning to make sandwiches with it, cut it in half horizontally before freezing, for a much easier and faster defrosting process.
Make the butter: blend all ingredients together thoroughly, making sure there are no white streaks. The butter will keep in the fridge in a sealed container for a few weeks.
Serves 8-10 as an appetizer. Adapted from Saltie and Prune.
Full post »