by Lydia Whitlock — Feb 7th, 2016
Thanksgiving may be the #1 food holiday that we celebrate in America, but Super Bowl Sunday isn't far behind it. If you're still looking for the perfect dish to bring to the Super Bowl potluck party, this grown-up version of French Onion Dip, using low-fat sour cream and Greek yogurt mixed Vanns Onion Powder, topped with beautifully caramelized onions, could be it. It's reminiscent of that wonderful French Onion Dip flavor, but with an added sophistication and a lot less fat. The onions may take some time to caramelize, but the rest of the recipe is the same as the classic -- mix some things together in a bowl, make sure the flavor is right, and dig in!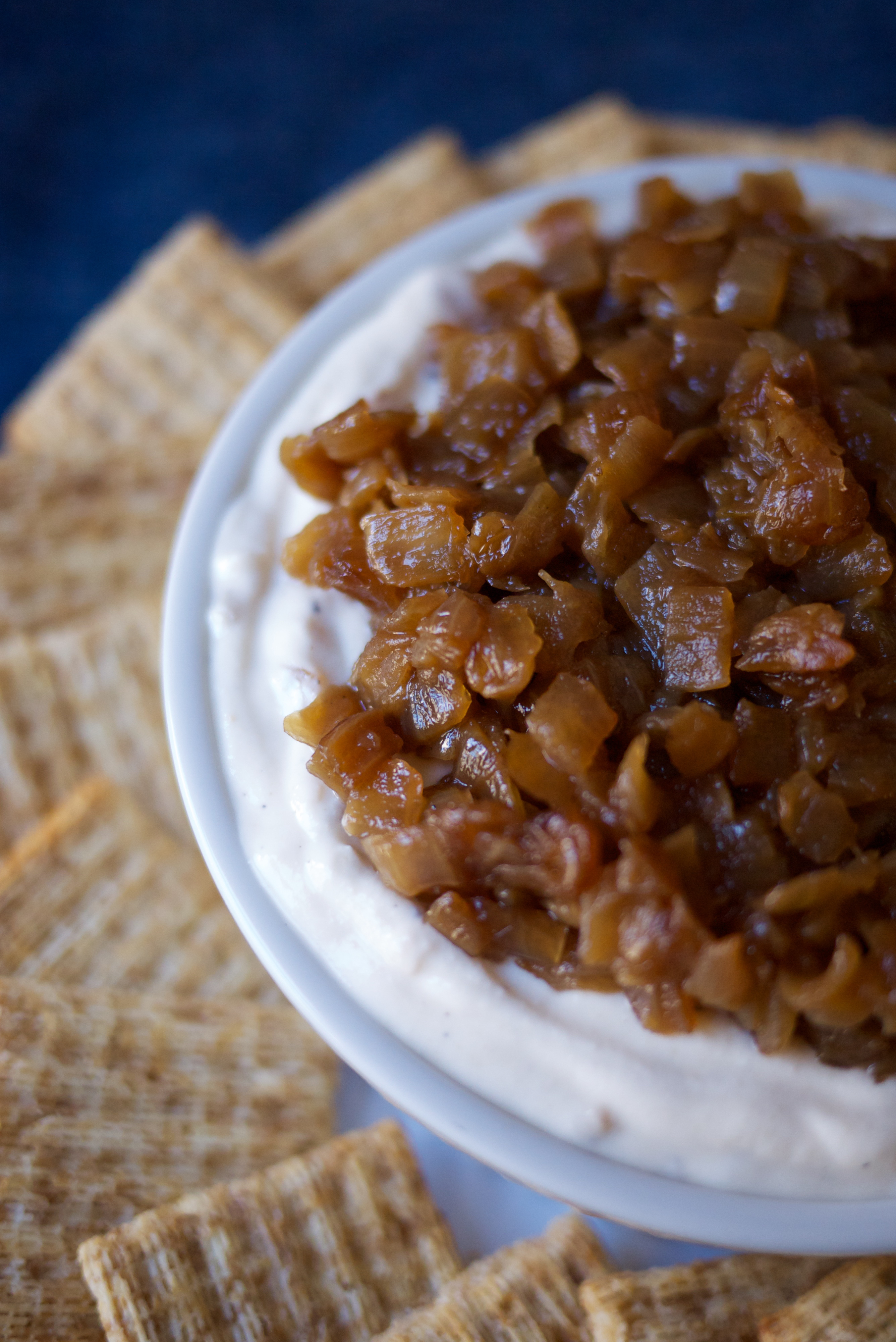 INGREDIENTS
PREPARATION
First, whisk together the sour cream, yogurt, Onion Powder, and Kosher Salt. The 3 Tbs. Onion Powder will give the dip a nice onion-y flavor, but you can add more or less to taste. You will be stirring some caramelized onions in later, so keep that in mind when seasoning. Refrigerate until onions are done.
Heat a thick-bottomed medium skillet over medium heat. I love using cast iron to caramelize onions. When the pan is warmed, add the oil. When the oil is shimmering, add the onions and salt and reduce heat to medium-low. Cook, stirring occasionally, until onions are well browned, about 15 minutes. When onions really begin to sizzle and are starting to look dry, add 1 Tbs. water to the skillet and stir. Continue cooking the onions until they start to sizzle and appear dry again. Add another tablespoon of water and repeat the cooking down and adding water process until onions are super soft and a dark brown color, 3-4 times total.
Allow the onions to cool to room temperature, then stir ⅔ of them into the dip. Scoop the dip into your serving bowl of choice and top with the remaining onions. Serve with crackers, crudités, or whatever you like. The caramelized onions in the dip will have the best texture and flavor at room temperature, so take the dip out of the fridge for around 30 minutes before serving.
Adapted from 101 Cookbooks. Makes around 2 cups.
Full post »