by Lydia Whitlock — May 24th, 2016
It's almost Memorial Day, and you know what that means -- time to take the cover off your grill, stock up on the charcoal and propane, and fill your grocery cart with your favorite pieces of meat and grillable vegetables. But though I know we're all excited about the first burgers and brats of the year, I want to share one of my favorite grilling recipes. It's complex and unexpected in its Indian flavors, but also a total crowdpleaser!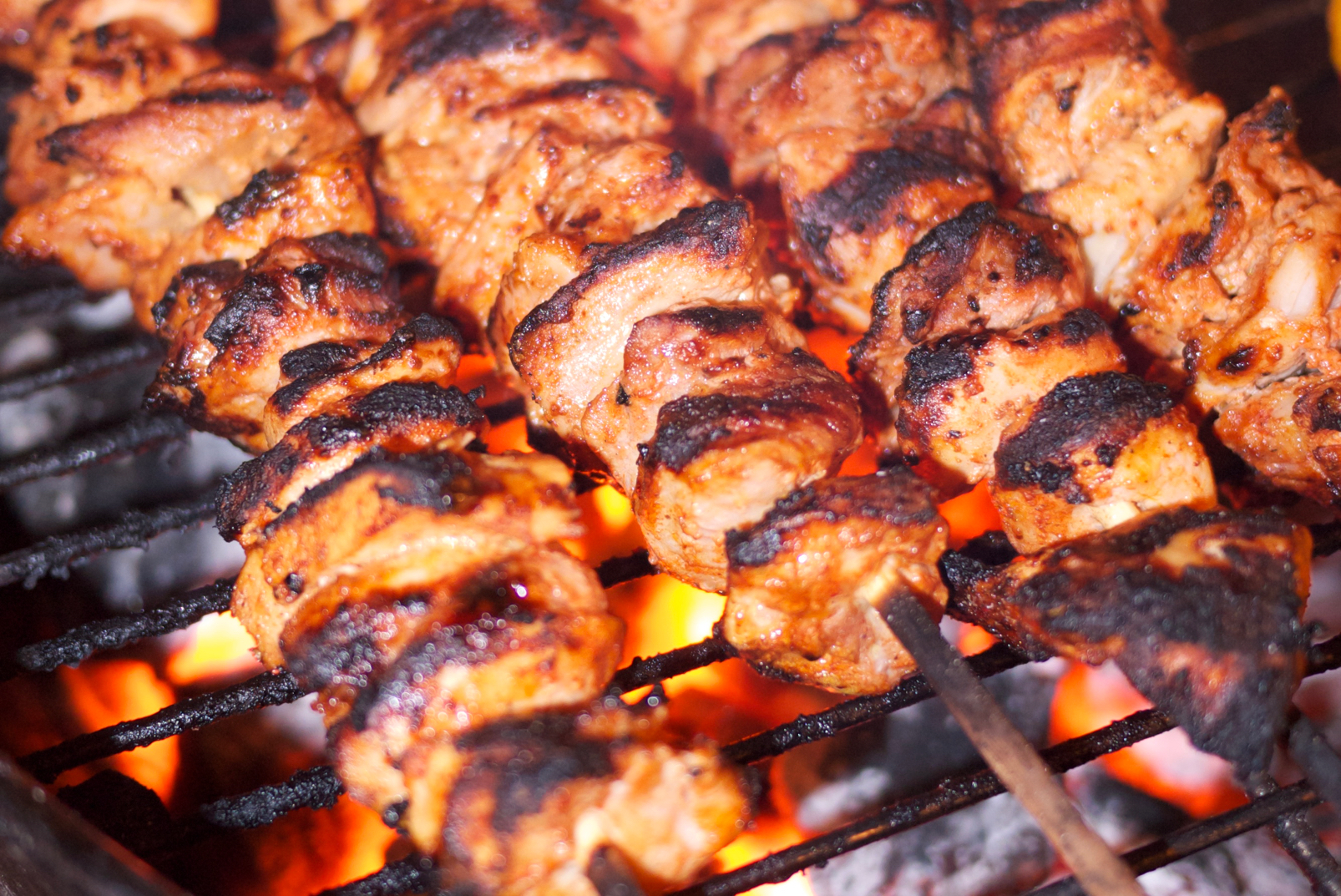 If you've ever looked at your spices and wondered, "Why on earth do I need two different kinds of paprika?" well, this recipe is the answer to your question. These kebabs use both Hungarian and Smoked Spanish Paprika to create a depth of flavor that is both sweet, smoky, and a little spicy. Add in some cumin, cayenne, and ground black pepper, bound together with yogurt and other flavorful ingredients, and you end up with a kebab version of an Indian takeout favorite -- Chicken Tikka Masala.
So, it's only natural to pair these kebabs with some creamy, cooling cucumber raita, which incorporates cayenne, cumin, and brown mustard seeds for a sauce that is both refreshing and zesty!
INGREDIENTS
Chicken
PREPARATION
Put yogurt, lemon juice, oil, ginger, salt, smoked paprika, paprika, garlic black pepper, cumin, and cayenne in a bowl and stir until totally combined. Taste for salt and for heat, and adjust the salt and cayenne if you need to.
Put the chicken pieces in a large plastic bag or container and pour the marinade over, stirring to make sure each piece is coated. If using a bag, remove as much air as possible. Place in refrigerator and marinate for 4-8 hours.
Meanwhile, make the raita, which should have a few hours in the fridge to make sure all its flavors meld together nicely.
Peel the cucumbers and grated them on the large holes of a box grater. Place them in a bowl and toss with the salt. Let the cucumbers sit at room temperature for 20-30 minutes, then pour them into a strainer and gently press out as much liquid as you can, before patting them dry with a paper towel.
Combine the yogurt, cayenne, cumin, lemon zest, and mint in a medium bowl and whisk until combined. Stir in the cucumbers.
In a small frying pan, heat the sesame oil over medium heat until hot but not smoking. Add the mustard seeds and fry for about a minutes, until seeds sputter and turn a lighter color. You may need a spatter screen to keep them from hopping out of the pan.
Remove from heat and quickly pour over the yogurt-cucumber mixture. It will sizzle and sputter a bit. Quickly stir the oil into the yogurt until evenly combined. Sprinkle with a little paprika to garnish. Refrigerate for at least an hour to allow the flavors to combine.
Now, back to the kebabs. One hour before cooking, soak your wooden skewers in water to prevent burning. If you're using metal skewers, no need to soak. After soaking, thread the chicken tightly onto the skewers, but don't smash the pieces together too much -- they should be touching each other firmly, but not so smashed together that they won't cook quickly.
If using a charcoal grill, light one chimney full of charcoal. When coals are evenly covered with a layer of ash, carefully spread them over the entire surface of the coal grate in an even layer. Place cooking grate on top, then cover the grill and allow it to preheat for 5 minutes. After preheating, clean and oil the grill grate -- cleaning it is much easier after it's been sitting over hot coals for a few minutes!
If using gas, preheat the grill to a medium-high heat.
Grill the skewers until well-browned on all sides and the center of the largest piece of chicken on the skewer registers between 160°F-165°F on a meat thermometer, 3-4 minutes per side. Transfer skewers to a platter, and let rest for 5 minutes. Serve with raita.
Serves 4-6. Adapted from Serious Eats and Vegetarian Recipes of India.
Full post »